BOTTOM OF HOME MADE PULLER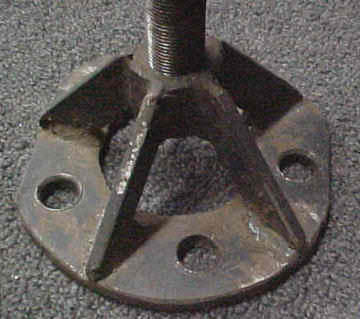 SIDE VIEW OF HOME MADE PULLER FOR TRUCKS
THIS WAS MADE FROM SCRAP METAL AND A BIG TRUCK SPRING BOLT

THIS IS A HOME MADE CAR DRUM PULLER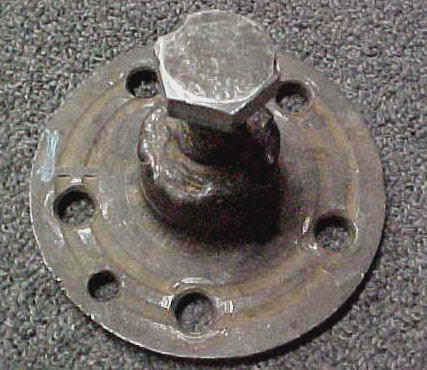 THIS WAS MADE FROM AN STUDEBAKER CAR FRONT HUB
YOU HAVE TO REMOVE THE STUDS AND DRUM TO GET TO A BARE HUB.

<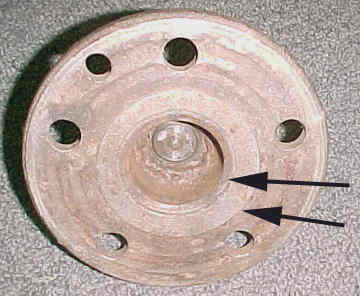 YOU HAVE TO HAVE THE MATERIAL CUT OFF IN A LATHE OR OTHER SUITABLE MEANS WHERE THE INNER BEARING WAS MOUNTED AS SEEN ABOVE.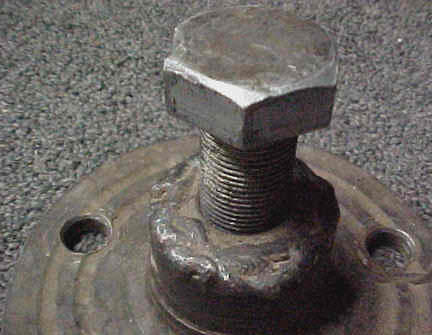 YOU WILL NEED A 1 INCH SAE NUT AND A MATCHING BOLT, THE BOLT ONLY NEEDS TO BE ABOUT 3 1/2" LONG
WELD THE NUT INTO THE HUB AS SHOWN AND YOU HAVE AN EASY TO TRANSPORT PULLER!

HERE YOU ARE READY TO PULL THE DRUM
USE THE SAME PROCEDURE DESCRIBED ABOVE FOR THE TRUCK PULLER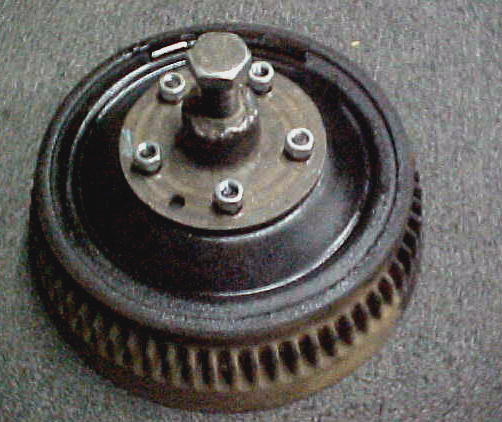 ---
MY NEXT PULLER IS MADE FROM A TRUCK HUB AND HAS THE SMALLER
4 1/2" BOLT CIRCLE DRILLED FOR CARS AS WELL. THIS WOULD MORE LIKELY LOOK LIKE THE FACTORY PULLER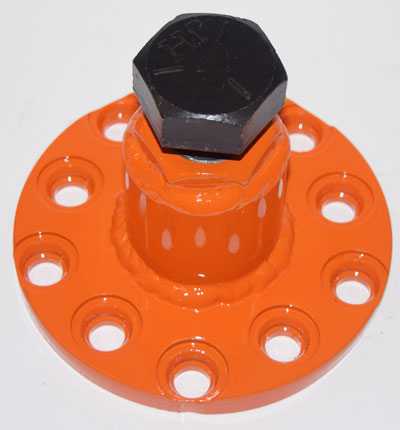 If you need a tool you can buy or rent one here


PLEASE FOLLOW THE INSTRUCTIONS
WHEN YOU USE THIS PULLER, I REMOVE THE AXLE NUT, PUT ALL FIVE WHEEL NUTS ON THE HUB LEAVING ABOUT
3/8" CLEARANCE BETWEEN THE PULLER AND THE HUB. NEXT HAND TIGHTEN THE CENTER BOLT OF THE PULLER AGAINST THE AXLE.
NEXT YOU CAN USE A 1/2" DRIVE RATCHET WITH A 3/4" SOCKET AND TIGHTEN ALL THE WHEEL NUTS A LITTLE AT A TIME IN SEQUENCE
THIS EVEN PULLING EFFECT WILL LOOSEN THE DRUM QUITE EASILY


IF YOU NEED A PULLER FOR THE 1950 AND EARLIER CHAMPION FOUR BOLT HUBS, IT LOOKS LIKE THIS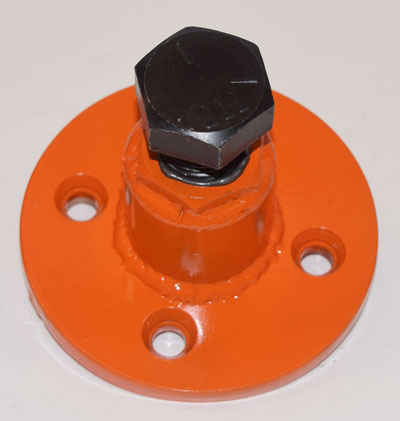 If you need a tool you can buy or rent one here


PLEASE FOLLOW THE INSTRUCTIONS
WHEN YOU USE THIS PULLER, I REMOVE THE AXLE NUT, PUT ALL four WHEEL NUTS ON THE HUB LEAVING ABOUT
3/8" CLEARANCE BETWEEN THE PULLER AND THE HUB. NEXT HAND TIGHTEN THE CENTER BOLT OF THE PULLER AGAINST THE AXLE. NEXT YOU CAN USE A 1/2" DRIVE RATCHET WITH A 3/4" SOCKET AND TIGHTEN ALL THE WHEEL NUTS A LITTLE AT A TIME IN SEQUENCE
THIS EVEN PULLING EFFECT WILL LOOSEN THE DRUM QUITE EASILY