The following diagrams are for the '55 Speedster, and '56-'61 Studebaker Hawk tachometers. These are the style that the tachometer drive/sending unit mounts between the distributor, and the distributor cap. I have re-built about 10 of these units. Only one was "too far gone" to use for anything but parts.
For the most part, the main problem is the deterioration of the wires. You should be able to re-wire yours and have it work. Only once did I see the brushes worn beyond service. I went to the parts store and bought some similar small brushes, filed them to size, and used them.
For the wire itself, I use 3-wire heavy duty extension cord with the black cover.
The "cable" that will work well for rewiring this tachometer. At any electrical supply or hardware store- ask for type "SJ" wire in 16 guage, it will work nicely.
This first drawing is of the distributor mounted tach drive/sending unit. It shows a schematic, and the color-coded wiring diagram.
The "white" wire is coded yellow to show up better in the drawing.Distributor driven unit: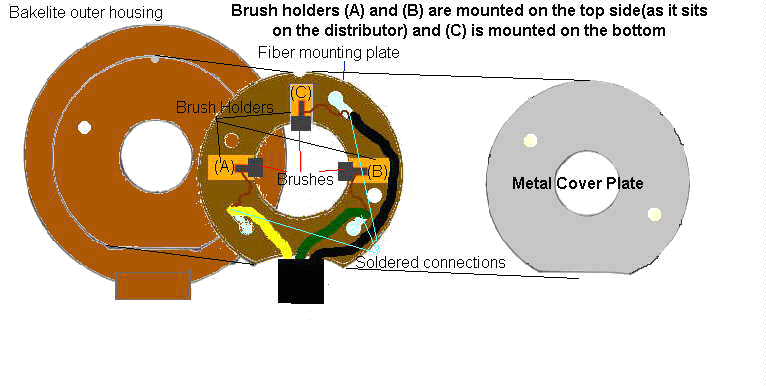 This next diagram is of the tachometer head itself, and a small drawing of the plug connectors. ALL the plug connectors are wired the same regardless of their position! The view shown is of the inside of the connector, viewing the tabs you solder the wires to:
Make sure ALL the connectors are wired like this!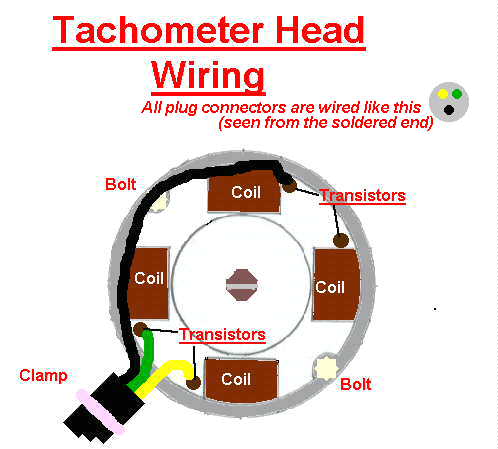 In the car:This Next diagram is of the harness itself, and how it is wired in the car. The "short" section coming from the tach head is 6" long, the "long" section is 24"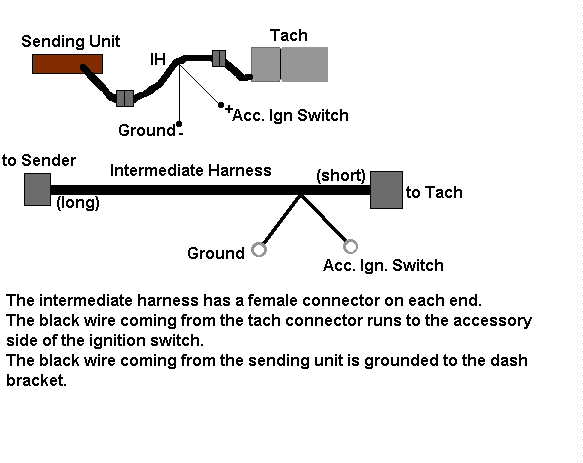 1962-64 GT Hawk Tachometer Wiring Diagram
This is for the stock tachometer with the square sending unit. The "R" series equipped cars used a different sender with the round canister. You can tell the difference by the dial face. The "R" series tachometer has a "redline" with red numbers/dashes from 5000-6000 rpm