Studebaker used letter designations for each of the body styles they produced. C&K refers to two of these body styles that are frequently confused.
From 1947-1952 it was fairly easy. Studebaker made only one line of cars, the Sedan. It came in various body styles, but they are all pretty easy to distinguish. The problem began in 1953 when a new line of Sedans and another line of sport models was introduced. These continued in various forms through the 1964 model year. The sedan 2 door was called an "F" body. The sedan 4 door was called a "W" body unless it was the longer Land Cruiser, President Classic, type which was called a "Y" body. The sport models came in two forms- the 2 door coupe was designated a "C" body, and the 2 door Hardtop was designated a "K" body
Still do not know if your car is a 2-door sedan, 2- door Coupe or a 2-door hardtop? If you roll down the front and rear windows and there is no post separating the front from the back, your car is a "K" body hardtop. If there is a post separating the front from the back glass, your car is an "F" body Sedan. If your back window does not roll down but instead flips outward, your car is a "C" body Coupe.
If you are still not sure which body style you have, you can lift the hood and check the body tag mounted on the passenger side of the firewall. It will read something like 62F12345. The "F" would indicate a 2 door Sedan
C - 5 PASSENGER COUPE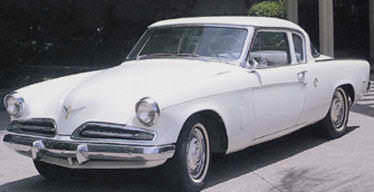 1953 COMMANDER OR CHAMPION COUPE
THIS IS THE "C" BODY STYLE
THIS WAS USED FROM 1953 TO 1961 ON THESE CARS AS WELL AS THE FINNED HAWKS

F - 2 DOOR SEDAN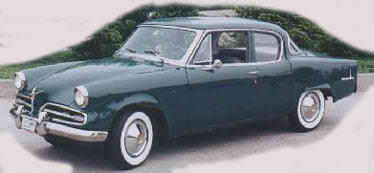 1953 CHAMPION OR COMMANDER 2 DOOR SEDAN
"F" IS A 2 DOOR AND "W" IS A FOUR DOOR SEDAN

Q - 3 PASSENGER COUPE


1953 COMMANDER OR CHAMPION HARDTOP
THIS IS THE "K" BODY STYLE
USED FROM 1953-1959 AND WITH SMALL CHANGES THE 1962-1964 GT HAWKS WERE ALSO THE "K" BODY STYLE

K -HARD TOP
S- CONVERTIBLE (FOLDING TOP)1947-1952 ONLY
W - 4 DOOR SEDAN
Y - 4 DOOR LAND CRUISER
---
14G 1953 CHAMPION

15G 1954 CHAMPION

16G6 1955 CHAMPION

56G 1956 CHAMPION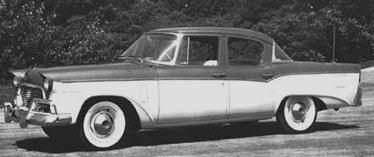 1956 CHAMPION FOUR DOOR SEDAN


57G 1957 CHAMPION
58G 1958 CHAMPION
4H 1953 COMMANDER
5H 1954 COMMANDER
16G8 1955 COMMANDER
56B 1956 COMMANDER
57B 1957 COMMANDER
58B 1958 COMMANDER
6H 1955 PRESIDENT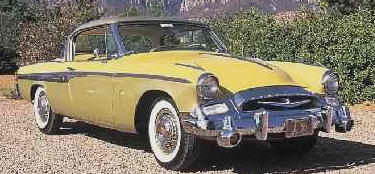 1955 SPEEDSTER
THIS IS ALSO A "K" CAR

56H 1956 PRESIDENT
57H 1957 PRESIDENT
58H 1958 PRESIDENT
56J 1956 GOLDEN HAWK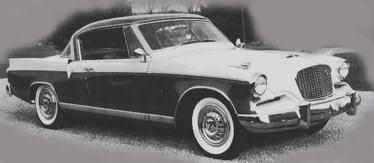 1956 GOLDEN HAWK
THIS IS ALSO CALLED A 56J CAR
IT IS A "K" SERIES BODY STYLE ALSO


57H-K7 1957 GOLDEN HAWK
58H-K7 1958 GOLDEN HAWK
57L 1957 PACKARD CLIPPER
58L 1958 PACKARD
58L-K9 1958 PACKARD HAWK
59S 1959 6 CYLINDER
60S 1960 6 CYLINDER
61S 1961 6 CYLINDER
62S 1962 6 CYLINDER
63S 1963 6 CYLINDER
64S 1964 6 CYLINDER
59V 1959 8 CYLINDER
60V 1960 8 CYLINDER
61V 1961 8 CYLINDER
62V 1962 8 CYLINDER


1963 GT HAWK
THIS IS A "K" CAR ALSO
THE BODY TAG WILL HAVE 63V K ON IT


63V 1963 8 CYLINDER
64V 1964 8 CYLINDER
---
BODY TAG SYMBOLS KEY FOR ABOVE CARS

C- 5PASSENGER COUPE

D- 2 DOOR STATION WAGON

F- 2 DOOR SEDAN

J- 1960-'64 SEDAN HARDTOP

K- 5 PASSENGER HARDTOP

L- CONVERTIBLE
1959-1964 LARK TYPE CARS

P- 4 DOOR STATION WAGON

W- 4 DOOR SEDAN

Y- 4 DOOR SEDAN, LONG WHEEL BASE